Bro. Don & Mrs. Benda Robinson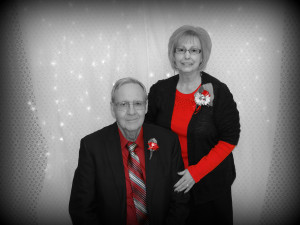 Our Pastor of 47 Years
Don Robinson was born on August 18, 1944. He was born into a large family of 7 children. He grew up in the plains of Arkansas. His early life was spent mostly in the cotton patches while his family struggled to get by. He recalls often that he didn't realize that they were living in poverty because everyone around them lived the same way. Growing up in this environment taught him a strong work ethic that has stayed with him throughout his life.
After Bro. Don graduated from Bradford High School, he went on to marry his beautiful wife, Benda Mallott, on January 16, 1965. On February 28, 1967, Don's life was forever changed. A pastor came to his house, knocked on his door, and told him about Jesus. While growing up in church, Bro. Don had never come to realize his need for Salvation until that night. He accepted Christ as his personal Savior that night in his home. He was baptized shortly thereafter on March 12, 1967.
Bro. Don immediately became faithful in his local church and in June 1967 began to feel the call of God on his life to preach the Gospel. In October of that same year, Bro. Don and a few local believers began the Denmark Baptist Church in Denmark, Arkansas. He pastored there for 6 years leaving the church with a debt free property. He went on to pastor Oak Grove Baptist Church in Lonoke, Arkansas for 16 months. After receiving offers to pastor in some larger cities across America, Bro. Don began to feel God calling him to his small home town of Bradford, Arkansas. On December 15, 1974 he planted Trinity Baptist Church. They would begin meeting in what was referred to as "the old tractor shed." Shortly thereafter the church would be blessed with some property and would be able to build a building of their own.
After a few years and some growth in the church, Bro. Don began to feel a burden for the spiritual well being of the young people in his church. It was out of this burden that Trinity Christian School was founded in 1981. The school has been a tremendous blessing to the church and has graduated many students that are now in full time Christian ministry.
Under the leadership of our Bro. Don, the church continued to thrive throughout the years that followed. The church saw steady growth in attendance for several years in a row. With the attendance at an all time high, the church decided to build a new church building in 2000, which the church still occupies today.
Bro. Don has furthered his education throughout his years of pastoring. He has achieved an earned Doctorate degree in Pastoral Counseling, as well as 2 honorary doctorates that other Bible Colleges have rewarded him with.
In addition to preaching the Bible, Bro. Don is also a sought after teacher of the Word of God at Bible Colleges and Institutes. He has taught at both Bethel Baptist College in Jacksonville and Gethsemane Bible Institute in Walnut Ridge for years.
Throughout the years, Bro. Don and his wife have been blessed with 3 children, 18 grandchildren, and 5 great grandchildren. All of his children are in active ministry at their local churches.
In December of 2021, on the 47th Anniversary of the church, Bro. Don stepped down as Senior Pastor of Trinity Baptist Church. His son, Seth Robinson, was voted in as the next pastor of Trinity. Bro. Don remains involved in the ministries at Trinity and serves as the Administrative Pastor.